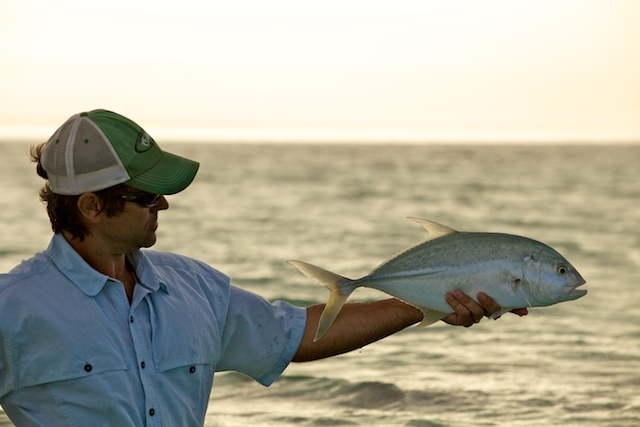 Profile - Kevin Jurgens
After the delivery of an ill-planned yet witty excuse to get off the job early, Todd Ostenson (now owner of Trophy Waters), and fellow ski instructor Kevin Jurgens headed down the hill for a "quick fish" on the Metolius River in Oregon. Fly fishing was not on the top ten things in life in Kevin's world, then only 19, and standing in the cold river (39 degrees) in the middle of winter didn't seem like much of a trade off from the daily grind of the Skiwee program. Fifteen minutes and two frozen whitefish later (he couldn't get the hook out soon enough), the first chapter of flyfishing was written and the top ten list had a new contender.

With a degree in marketing and photography, Kevin headed to Bend, Oregon to start life as an "ad agency guy", working as a graphic designer for a local shop. A year later, he went out on his own and formed The Garage Inc., quickly a firm of five people, poised to change the "norm" of what had become "boring" in the ad world. During his tenure, photography was always a vent, and occasionally a paying job. Some of the jobs involved hanging outside of cargo doors of airplanes shooting "air-to-air" brochure and ad photography for local client, Lancair. Fly fishing photography, however, was in his heart, and inspiration came especially from local friend, Brian O'Keefe.

After eight years in the advertising business, Kevin started a web business, fisheyesoup.com, with co-founder, Greg Freeman. The concept was born out of the frustration when researching flyfishing destination travel: There were no websites with current fishing reports, photography, or info about the areas...Fisheyesoup.com was the solution to help those businesses looking to market their business EFFECTIVELY through the web, driving business with sound web technologies, easy to use tools for updating information, and powerful methods for drawing traffic.

A year and a half later, fisheyesoup.com was on the run and poised for success. Overwhelmed with running both an ad agency and a web business, Kevin sold The Garage and pursued the fisheyesoup.com dream.

Today, Kevin lives in Charleston, South Carolina in the winters where he chases redfish and Craig, Montana for the summers along the banks of the Missouri River, casting to rising trout. Kevin shoots fly fishing photography, tends to fisheyesoup.com's growth, develops website and marketing materials for primarily fishing companies and travels to lodges and fly shops around the country to aid them in marketing their businesses.